Our hints & tips for kerbside recycling
Here at Lakeland we're committed to improving our packaging to ensure that, eventually, everything can be recycled – including plastics. This commitment has naturally increased our interest in recycling in our own homes, and we realised that we didn't always know what to do for the best.
Can I recycle bottle lids? Do I need to remove labels? We weren't sure. That's why, working with Recycle Now, we've come up with the following handy hints to help both you and us with all those little kerbside recycling quandaries.
Recycle on your doorstep
To start, you'll need some sturdy kerbside recycling bags and boxes to divide your waste into. If you haven't already had them from your local council, it's worth giving them a call as many local authorities will deliver them to you, free of charge. And if you're looking for a more attractive kitchen recycling bin, you'll find there's one in our range to fit every space.
What can I recycle?
Good question. Before you pop anything into your kerbside collection box, we recommend checking your local authority's website to see what's recyclable (as well as what's not!) in your area. We've broken the basics down into a couple of quick at-a-glance lists, but for an accurate, local guide, visit www.recyclenow.com and pop in your postcode to check out your options.
Yes – recycle me
Paper
Card
Plastic bottles (emptied, rinsed and squashed with lids on)
Glass bottles (leave metal lids on)
Cans/tins (you can leave paper labels on and put the lids inside)
Aerosol cans (empty with plastic caps removed)
Clean aluminium foil (collect foil and scrunch into a sizeable ball before recycling)
Cleaning product bottles (leave any triggers in place)
Aluminium tubes (remove the plastic caps)
No – keep me out of the collection box
Foil pouches
Drinking glasses
Glass cookware
Cards with glitter on them
Sticky papers
Nail varnish bottles
Window glass
Crisp packets
Take me to a recycling bank
The following items can't usually be in your kerbside recycling, but you can take them to supermarket recycling banks.
Non-compostable/non-biodegradable carrier bags
Shrink wrap
Breakfast cereal liners
Bread bags
Magazine wrappers
Toilet roll wrappers
Bubble wrap (if fully popped!)
Frozen food bags
Remember, if you're ever in doubt about what goes where – or if it can go in at all – check kerbside collection information with your local authority.
Top tips
When the wrong materials end up in your recycling waste, it's much less likely that the materials will be recycled, meaning that sadly they could end up in landfill, along with any other waste they've contaminated. However, taking a few easy steps will help ensure your empty bottles, bags and boxes do actually make it through the recycling process.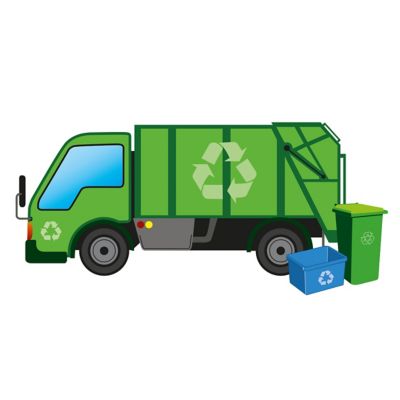 Rinse food packaging: Traces of food (unless it's just a grease stain) can contaminate the recycling system, so you should always rinse tins, pots and packaging prior to popping them into a collection box.
Remove tape: You should remove all sticky packing tape from cardboard before placing it into a recycling bin.
Cardboard: The main types of cardboard we use at home are corrugated cardboard for packing boxes, and the types used for food and drink packaging. Both types are recyclable but councils sometimes collect them separately, so check what's correct in your area.
Tin cans to deal with?: Tin can lids are recyclable if you pop them inside the clean, empty tin, and empty aerosol cans are recyclable as long as you remove plastic caps. You can also leave paper labels on tins as these will be recognised and dealt with separately.
Ball it up: Aluminium foil is recyclable, simply collect and scrunch into a sizeable ball before popping it in your recycling bin. Aluminium tubes are recyclable too, but only after removing plastic caps.
Put a lid on it: Metal lids should be left on glass bottles and jars and they should be placed in your kerbside glass bin.
The scrunch test: As a basic rule, if you scrunch paper and it doesn't spring back, it can be recycled in a kerbside collection box.
Clean up your act: Detergent and cleaning product bottles are recyclable, and you can leave any triggers in place.
Plastic bottles: These should be emptied, rinsed, squashed and have lids put back on ready for recycling – this is because loose lids are often too small to be detected in the recycling process.
Compostable plastics: Compostable plastics shouldn't be placed into recycling with other plastics; this is because compostable plastics are designed to break down, not be recycled, and mixing the two can cause contamination. Certified compostable plastics can often be recycled with your garden waste through your local authority. Some will break down in a home compost heap, but they need the right mix of heat, oxygen and moisture – something that's not always easy to guarantee in the British climate!
Garden waste: Some councils provide a special sack or bin for your garden waste and collect it as part of your household collection scheme. If you don't have this type of collection service or your bin is full, you can recycle garden waste at your nearest recycling centre. Things like eggshells, tea leaves, peelings and coffee grounds can go onto a home compost pile, and our kitchen caddies and crocks will keep them discreetly stored until you're ready to head out to the heap.
One man's trash…
… is another man's treasure, so another way to 'recycle' anything that's still usable is to take it to a charity shop. Some will accept pre-loved furniture – a few even come to your home to collect it – and many charities are very grateful for any clothes, toys, and books still in good condition.
Recycling symbols explained
One of the trickiest things about recycling is deciphering all of those symbols. You'll find them on all sorts of packaging, from soft drink cans to bread bags and toiletry bottles, and they'll tell you whether the item is suitable for kerbside collection or whether you should take it to your local recycling centre – but what do they all mean? Recycle Now's packaging symbols page explains the most commonly used recycling symbols in a clear, easy-to-understand way, so you won't be scratching your head next time you're faced with an unfamiliar logo.
Recycle by room
We all use toiletries and bathroom cleaners, and our bathrooms are awash with stuff that you can recycle after we finish with it. The great news is, most people are doing just that, but there's always room to recycle more – Recycle Now say that if everyone in the UK recycles one bathroom cleaner bottle, it could save enough energy to vacuum around 82,460 homes – so every bit really makes a difference. Visit their bathroom recycling page and find the best way to deal with everything from toilet spray containers to shampoo bottles.
And then there's the "other stuff"…
Empty paint cans, car tyres, Christmas decorations, old beds… you'd be amazed at just how much of our stuff can be recycled when it comes to the end of its life – it just needs to be dealt with in the right way. That's why, with its A-Z of products and packaging with recycling guidance for each, this is our favourite Recycle Now page of all.
Help is at hand!
We hope we've given you a few helpful hints and tips and solved any of your recycling niggles, but if you need more in-depth information about how – and where – to recycle something specific, help is always at hand!
When you need a bit of guidance, make www.recyclenow.com your first port of call – there's an option to check local recycling options by postcode, and you'll find helpful guides for recycling electrical appliances, food waste, medicines and more, so it's easier than ever to do your bit for the planet.
Happy recycling!