Step-by-Step Tiered Honeycomb Bee Cake
It wouldn't be summer without bees buzzing lazily around the garden, so to celebrate our pollinating pals, we've a host of bee-themed bakes that will have everyone swarming to the tea table. And this is the showstopping star, complete with a hive of bees going about their buzzi-ness and honeycomb detail that's so quick and easy to make with PME's Hexagon Geometric Multicutters.
Instructions
Step 1 – gather your kit
To create our tiered bee bake, we used:
• 15cm and 20cm Loose-Based Deep Round Cake Tins
• 3 x 400g tubs Renshaw Vanilla Frosting
• 750g Renshaw Ready-to-Roll White Icing
• 750g Renshaw Ready-to-Roll Yellow Icing
• 250g Renshaw Ready-to-Roll Black Icing
• PME® Hexagon Geometric Multicutters
• Wilton® Cake Decorating Brush Set
• Renshaw Ready-to-Use Royal Icing
Step 2 – bake the base
Start off by making the cake sponges to a recipe of your choice – maybe think bee-themed for the flavour too, and go for honey and vanilla? You'll need a standard 4-egg mix for the two sponges to make up the bottom tier, and a 2-egg mix for the sponges for the top tier. Once cooled, sandwich the paired sponges together with vanilla frosting, crumb coat both tiers using a palette knife and smooth the edges using a side scraper. Put in the fridge and leave for 15-20 minutes for the frosting to set.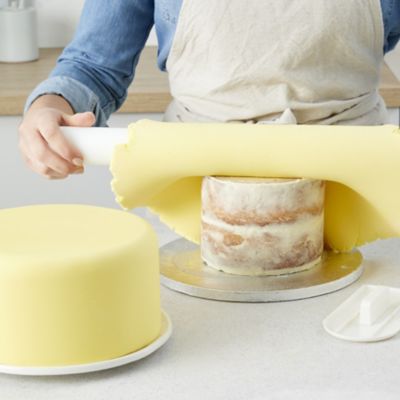 Step 3 – Cover the tiers
Knead 625g of the white ready-to-roll icing with 375g of the yellow icing until you have a consistent pale yellow colour.
Roll this out and cover each cake tier in turn, using an icing smoother to get the finish as smooth and even as possible. Leave to harden.
Once the icing has set, transfer the larger cake to a cake plate or drum, spread a little frosting on the top and place the smaller tier on top.
Step 4 – make your bees
Roll some of the leftover bright yellow icing into a sausage about 1cm thick. Repeat with some of the black icing, then use a sharp knife to cut both sausages into thin sections. Using a little edible glue, stick alternating black and yellow sections together to make your bees – start with a black section, then yellow, then black, then yellow, then a final black section. Shape both ends with your fingers so they're rounded off. You can make as few or as many bees as you like to decorate your cake – we made 12.
For the bees' wings, roll out a little white icing and use the largest of the daisy cutters to stamp out a few flowers. Cut off each petal then pinch two petals together at the bottom. Glue these to the top of the bees and leave to set.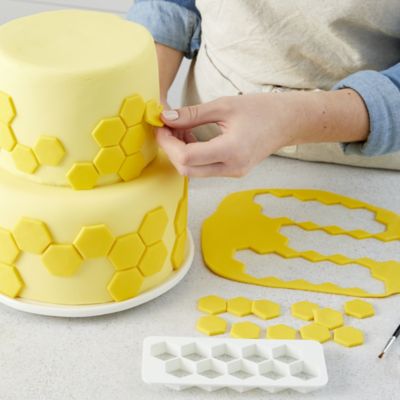 Step 5 – honeycomb hexagons
To make the honeycomb design, roll out the remaining yellow icing to 5mm thick. Use the largest of the three hexagon multicutters to cut out hexagons – you'll need around 30 individual shapes in all, which you can make with just three presses of the multicutter. Using the edible glue, stick these to the bottom tier in a honeycomb pattern. Starting from the bottom of the cake and working up will help to keep these straight.
For the top tier, use the medium-sized cutter to cut out more hexagons – again, you'll need about 30. Start from the bottom of the tier again, working up the cake and leaving a 2cm gap around the top to paint on your bee trail.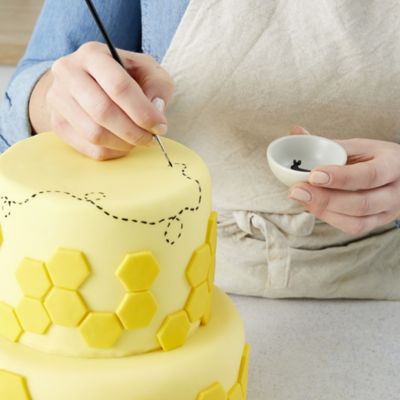 Step 6 – finishing touches
Put a little black food colouring in a small pot. Use a fine food-safe brush to paint small dashes around the top of the cake to create the bee trail, making sure to add loops in places and taking care not to smudge the trail as you paint it on. Once the trail has fully dried, use royal icing to stick the bees onto the cake – some on the trail, some dotted around, and some on the step between the tiers.
For more showstopping bakes that are sure to create a buzz, check out our step-by-steps to decorate a Buzzy Bee Cake, Bee Cake Pops, Bee Madeleines, Iced Bee Cupcakes and Bee Mini Sandwich Cakes, and our recipes for Iced Bee Cookies and Bee & Honeycomb Shortbread.
Recommended Recipes