Step-by-Step Mini Burger Brownie Cakes
They might look like the real right-off-the-grill thing, but these little cake burgers stack up sweet all the way, from their sponge 'buns' to brownie 'burgers' and icing fillings – perfect for handing round your barbecues and garden parties after all the 'real' flame-grilled grub's gone!
Ingredients
For the sponge burger 'buns'
175g unsalted butter, at room temperature
175g caster sugar
3 large eggs
1 tsp vanilla extract
175g self-raising flour
Pinch of salt
For the brownie 'burgers'
200g caster sugar
90g self-raising flour
50g cocoa powder
¼ tsp baking powder
¼ tsp salt
120ml vegetable oil
80ml whole milk
1 tsp vanilla extract
1 large egg, beaten
To decorate
200g icing sugar
60g coconut flakes
1 tsp sesame seeds
Instructions
Step 1 – gather your kit
To create our mini cake burgers, we used:
Lakeland 12 Hole Loose-Based Mini Sandwich Tin
Complete Cake Decorating Set (plain nozzle no. 10)
Wilton® Cake Decorating Brush Set
Step 2 – bake the buns
We followed our recipe for mini lemon curd sponge cakes to make the 'buns', but any standard 3-egg Victoria sandwich recipe will work – just divide your mixture between the holes of the mini sandwich tin, bake for 15-20 minutes until well-risen and golden, then leave to cool for 5 minutes in the tin before lifting out onto a cooling rack. Once the sponges are completely cool, cut them in half to make the top and bottom burger buns and set aside.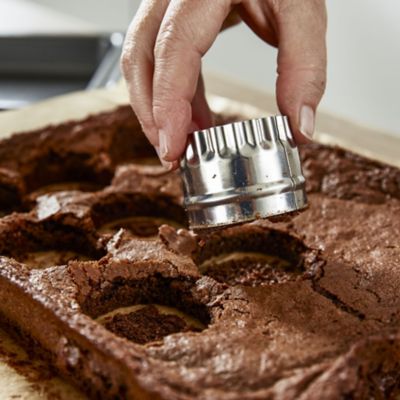 Step 3 – make the brownie burgers
To make the little brownie 'burgers' to go inside the buns, grease and line the brownie tin with parchment paper and preheat the oven to 180˚C/Gas 4.
Stir together the sugar, flour, cocoa powder, baking powder and salt; add the oil, milk, vanilla and egg, and whisk until well combined. Pour the mixture into the prepared pan and spread evenly, and bake for 20-25 minutes, or until a wooden pick inserted in the centre comes out clean. Leave to cool in the tin, then lift out using the paper, transfer to a board and cut out 12 'burgers' using a 5cm round cutter.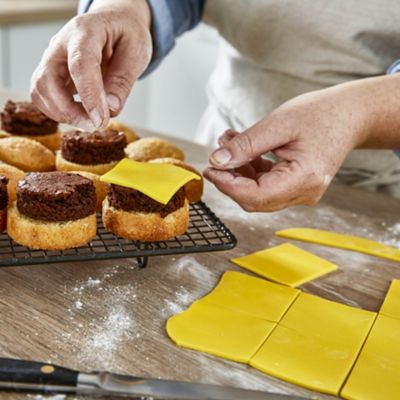 Step 4 – say cheese!
To make the little squares of 'cheese' to put on top of your brownie burger patties, take a large chopping board (at least 25 x 20cm) and dust it with icing sugar or cornflour. Roll out enough Ready-to-Roll Yellow Icing to make a rectangle approx. 18 x 24cm and 3mm thick. Using a sharp knife, cut this into twelve 6cm squares. Setting the tops of the buns aside, lay out the bases and place a brownie burger on each one, then top with the yellow icing squares.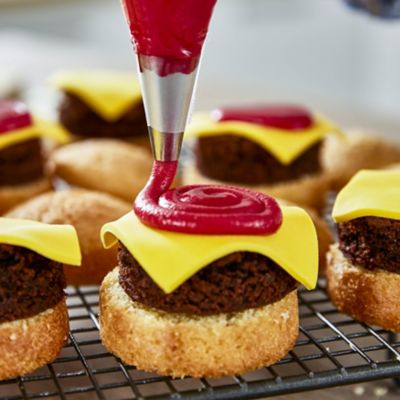 Step 5 – pass the ketchup
For the red 'ketchup', mix the 200g icing sugar with enough water to make a thick icing that is only just loose enough to pipe. Add drops of red food colouring and mix in until you have a deep red shade. Fit a piping bag with a plain number 10 nozzle (with a large round opening approx. 6mm across), spoon in the red icing and pipe onto the top of the icing squares in a flat spiral, starting in the middle and working your way outwards – the icing should only spread a little before it hardens, so it won't run out of the centre.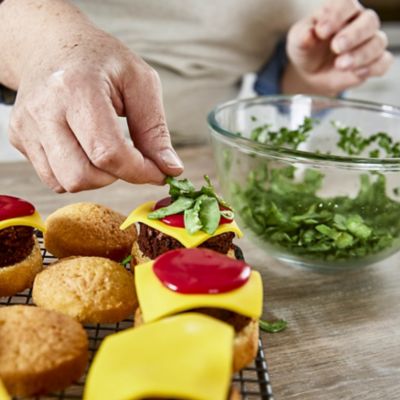 Step 6 – shred the lettuce
Put the coconut flakes in a bowl, add 1-2 tsp water and a few drops of green and yellow food colouring.
Mix with a spoon until the coconut flakes have absorbed all the water and colouring.
Leave to dry, then place a few 'leaves' on top of each circle of red 'ketchup'. Once all 12 burgers have been topped with lettuce, add the upper halves of the burger buns.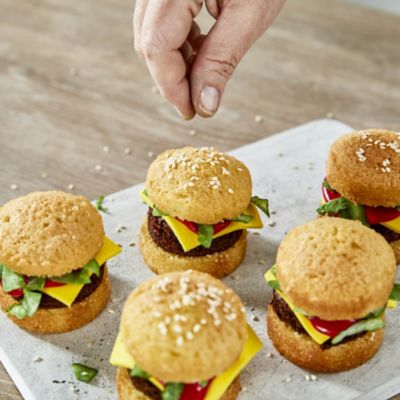 Step 7 – sprinkle the sesame seeds
To give your cake burgers an authentic finishing touch, paint a little edible glue onto the top of each bun using a food-safe brush, then sprinkle with the sesame seeds.
If you're looking for more sweet takes on classic barbecue food, check out our step-by-step recipe for Mini Barbecue Kebab Cakes.
Recommended Recipes