Step-by-Step Mini Barbecue Kebab Cakes
Barbecues are perfect for cooking up everything from meat feasts to chargrilled veggies, but what do you do for dessert? Serve up these grilliant (sorry) chocolate cupcakes, of course, topped with icing 'coals' and sweetie skewers.
Ingredients
For the grills
For the chocolate cupcakes
175g margarine
175g caster sugar
3 medium eggs
110g self raising flour
55g cocoa
¼ tsp baking powder
For the icing
For the skewers
Instructions
Step 1 – gather your kit
To create our mini kebab cupcakes, we used:
Complete Cake Decorating Set (writing nozzle no. 2)
144 Colourful Cupcake Cases (the brown ones are perfect)
Wooden cocktail sticks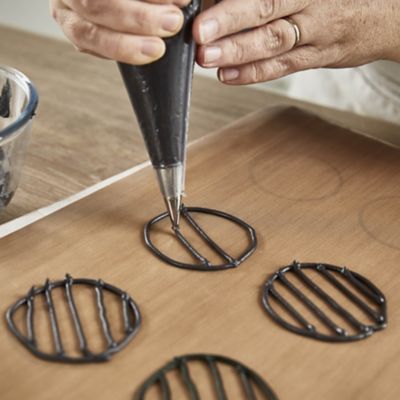 Step 2 – pipe your grills
The day before you want to serve your bakes, you'll need to make the little royal icing grills for the top – these need to set overnight. Mix the royal icing sugar with just enough water to make a stiff icing, then colour with black food colouring. Fit a piping bag with a small writing nozzle – number 2 from our decorating set is perfect – and spoon in the royal icing. Draw 12 circles, each 6cm across, with black pen on a piece of paper. Place this under a piece of magic non-stick liner to give you a guide for where to pipe. Pipe 12 'racks' and leave these to dry out overnight.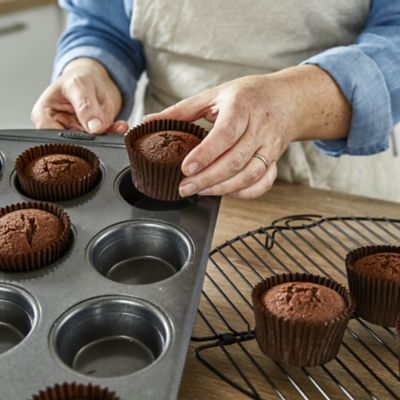 Step 3 – bake the chocolate cupcake bases
To bake the barbecue bases, first preheat your oven to 170˚C/Gas 4 and place a dark brown cupcake case in each of the holes of the bun tin. Cream together the margarine and sugar until light and fluffy. In a separate bowl, mix together the flour, cocoa powder and baking powder. Add one beaten egg to the margarine and sugar, beat to combine, then add a little of the flour mixture and whisk again. Repeat until all the eggs have been added, and then fold in any remaining flour mixture. Divide between the cupcake cases and bake for 15-20 minutes until well-risen. Remove from the tin and leave to cool on a cooling rack.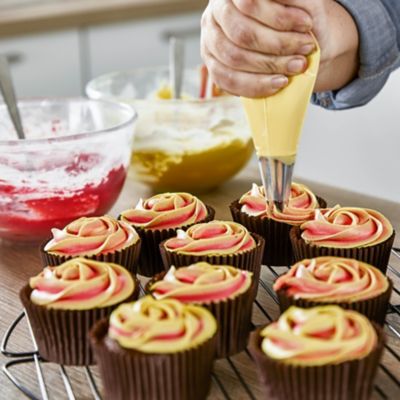 Step 4 – fire up the coals
Divide the vanilla frosting between two bowls and colour one half red and the other yellow.
Fit a piping bag with the Wilton 2D Flower Nozzle and add alternating spoonfuls of each colour to the bag so the colours get mixed together as you pipe.
Holding the nozzle vertically over the centre of each cupcake, pipe outwards in a circular motion to pipe a rosette on the top of each cupcake.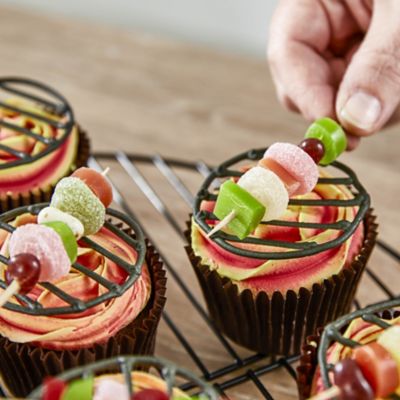 Step 5 – sweet skewers
Using a palette knife, carefully lift the grill racks from the non-stick liner and lay one on top of each piped cupcake. Take your selection of sweets and thread six onto each of 12 wooden cocktail sticks, mixing colours and shapes – we cut up red and green liquorice strands to make 'peppers', alternating these with jelly beans in a variety of colours and fizzy gummies. Place a sweetie skewer on top of each grill rack to finish.
If you're looking for more sweet takes on classic barbecue food, check out our step-by-step recipe for Mini Burger Brownie Cakes.
Recommended Recipes