Step-by-Step Iced Bee Cupcakes
We love these cute little bee-topped bakes. Decorated in minutes thanks to the oh-so clever Animal Face Icing Cutter, they're sure to have guests swarming round your afternoon tea table!
Instructions
Step 1 – gather your kit
To create our tiered bee bake, we used:
• Renshaw Ready-to-Roll Black Icing
• Renshaw Ready-to-Roll Yellow Icing
• Renshaw Ready-to-Roll White Icing
Step 2 – bake your cupcakes
Bake 12 cupcakes in a deep bun tin lined with bright yellow cupcake cases – we used our recipe for Delightful Vanilla Cupcakes to make the sponges – remove from the tin and leave to cool completely on a wire rack.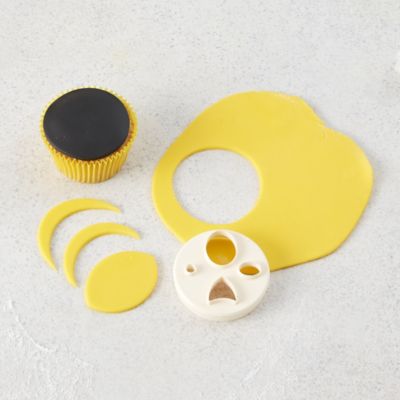 Step 3 – bee body and stripes
Dust your work area and roll out the black icing to 5mm thick. Using the 'face' side of the cutter, cut out 12 black circles to make the bodies of the bees. Spread a little of the frosting on top of your cupcakes and place the black circles on top, pressing down lightly to make a flat surface.
To make the stripes, roll out the yellow icing, cut out circles using the 'face' side, and then use one edge of this side to cut out two curving stripes for each bee. Attach to the top of the cupcakes with a little edible glue, leaving enough black space on one side to add in some eyes.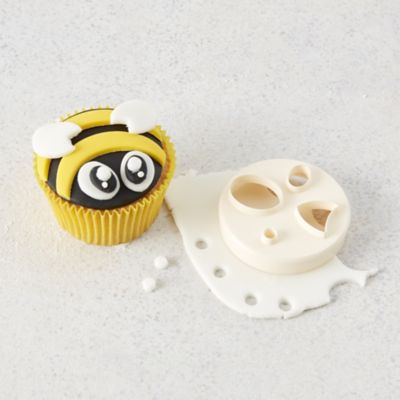 Step 4 – wings and eyes
For the wings, roll out the white icing and use the larger oval cutter on the 'features' side to cut out two wings per cake. Use the corner of the 'fin' cutter to remove a notch from each wing. Stick these on top of the stripes.
To start building up the eyes, use the same larger oval cutter to cut out more white shapes. Stick to the black icing in front of the yellow stripes. Use the smaller oval cutter to cut out black icing, and stick these on top of the whites of the eyes, then use the small circle cutter to cut out the small white centres of the eyes. Again, stick this on using edible glue. To finish, roll some very small balls of white icing, flatten slightly between your fingers and attach just below the small white circles.
For more showstopping bakes that are sure to create a buzz, check out our step-by-steps to decorate a Tiered Honeycomb Bee Cake, Buzzy Bee Cake, Bee Cake Pops, Bee Madeleines and Bee Mini Sandwich Cakes, and our recipes for Iced Bee Cookies and Bee & Honeycomb Shortbread.
Recommended Recipes