Step-by-Step Bee Mini Sandwich Cakes
A perfect mini morsel for any afternoon 'bee' party, these lovely little bakes lift out easily from our 12 Hole Loose-Based Mini Sandwich Tin and stack up prettily with their topping of flowers and buzzy bees.
Instructions
Step 1 – gather your kit
To create our mini buzzy bee cakes, we used:
• 12 Hole Loose-Based Mini Sandwich Tin
• PME 8 Paste Colours (sunny yellow)
• 3 x 400g tubs Renshaw Vanilla Frosting
• Renshaw White Modelling Paste
• Renshaw Ready-to-Roll Yellow Icing
• Renshaw Ready-to-Roll Black Icing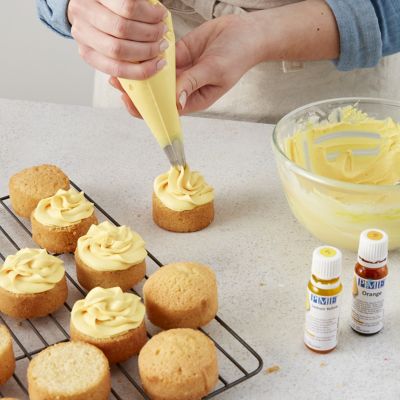 Step 2 – bake and buttercream
We used our recipe for mini lemon curd sponge cakes to make the sponges and the buttercream for these bakes.
Once your buttercream is made up, add a few drops of yellow food colouring and mix until you get your desired shade. Cut off the end of a piping bag, add the flower nozzle and spoon in your buttercream. Sandwich together the halved cakes with a swirl of buttercream, then pipe a swirl on the top of each stacked cake.
Step 3 – fashion the flowers
Roll out the white modelling paste and use the daisy icing cutters to cut out three flowers for the top of each cake. Roll a little yellow icing into balls and use edible glue to attach these to the centre of each flower. Set aside and leave to dry.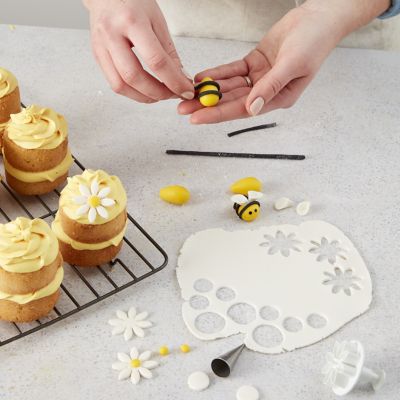 Step 4 – build your bees
To make the bees, roll yellow icing into 12 little balls and shape with your fingers so they're fatter at one end and narrower at the other.
Roll black icing into thin sausages and attach around the bodies of your bees using edible glue.
For the wings, cut out small circles of the white modelling paste (you can use the base of a small icing nozzle for this). Pinch at one side to make a slightly cupped shape, then glue to the bees' backs and leave to set.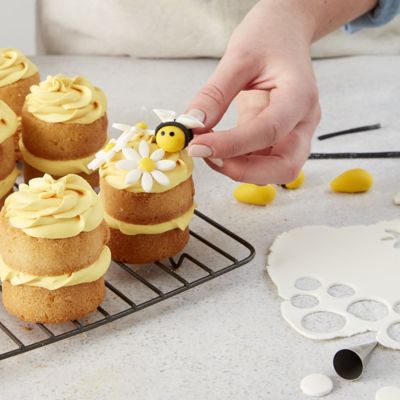 Step 5 – let the pollination begin…!
Arrange the flowers on top of the icing, and then add a bee to each.
For more showstopping bakes that are sure to create a buzz, check out our step-by-steps to decorate a Tiered Honeycomb Bee Cake, Buzzy Bee Cake, Bee Cake Pops, Bee Madeleines and Iced Bee Cupcakes, and our recipes for Iced Bee Cookies and Bee & Honeycomb Shortbread.
Recommended Recipes