Step-By-Step Bee Madeleines
Hosting a bee-themed tea party? Dressed up in their buzzy best, these deliciously delicate bee and flower-sprinkled madeleines are sure to go down a treat, and they're really easy to make in our 12 Hole Madeleine Tin. Here's how we made ours…
Instructions
Step 1 – gather your kit
To make our bee madeleines, we used:
• Renshaw Ready-to-Use Royal Icing
• PME 8 Paste Colours (sunny yellow and midnight black)
• Renshaw White Modelling Paste
• Renshaw Ready-to-Roll Yellow Icing
• Renshaw Ready-to-Roll White Icing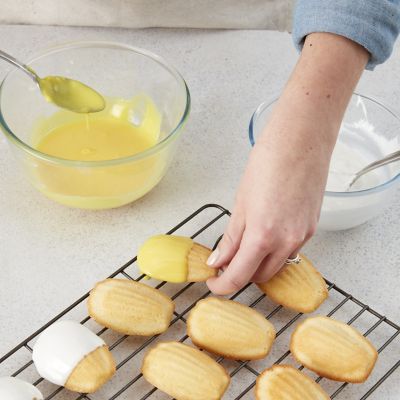 Step 2 – bake and coat your madeleines
To give these bakes a bee-themed flavour, we used this recipe for coffee madeleines, but swapped the coffee for one tablespoon of runny honey and one teaspoon of vanilla extract.
Once your madeleines are completely cooled, they're ready to coat. Mix the royal icing with enough water so that the consistency is thick, but will still run. Divide this evenly between two bowls and add a little yellow food colouring to one bowl, mixing well until fully combined.
Holding the narrower end, coat two thirds of each madeleine with royal icing – six with the yellow and six with the white. Spoon the icing over the madeleines, rotating until evenly covered, then place on a wire rack to let any excess drip off. Leave to harden.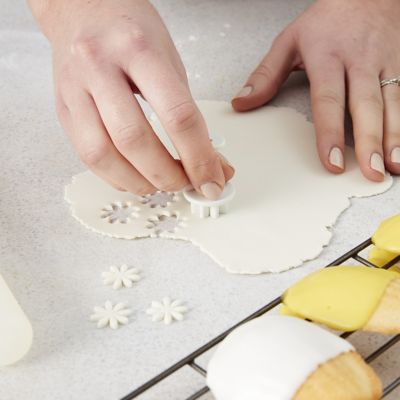 Step 3 – fashion the flowers
Roll out the white modelling paste and use the smallest of the daisy icing cutters to cut out at least 12 flowers – you'll need 12 to decorate the yellow madeleines, but can make more if you want to have flowers on some of the white ones too.
Use a little edible glue to stick pairs of flowers together, offsetting the petals a little to get a layered look. Roll small amounts of yellow icing into little balls, then glue one to the centre of each of the flowers.
Once the flowers have set, glue one onto each of the yellow madeleines, and add any extra to the white ones.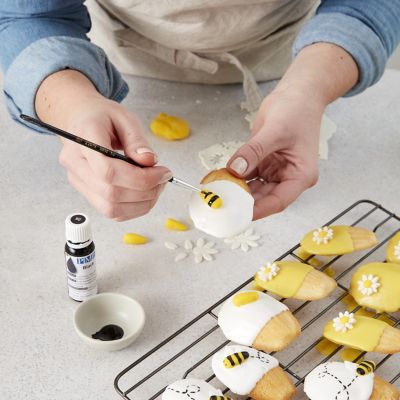 Step 4 – build the bees
To make the little bees for your white madeleines, roll small balls of yellow icing into sausage shapes to form the bodies of your bees and leave to set.  Once these have hardened, use edible glue to attach them to the cake pops. Dip a little brush into black food colouring and paint on a few black stripes and the eyes. For the wings, roll out a little white icing and use the smallest of the daisy icing cutters to cut out a few flowers. Cut the petals off these flowers and glue two onto the cake pops above the mini bees to make the wings. Finally, use the black colouring to paint looping bee trails onto each madeleine.
For more showstopping bakes that are sure to create a buzz, check out our step-by-steps to decorate a a Tiered Honeycomb Bee Cake, Buzzy Bee Cake, Bee Cake Pops, Bee Mini Sandwich Cakes and Iced Bee Cupcakes, and our recipes for Iced Bee Cookies and Bee & Honeycomb Shortbread.
Recommended Recipes